"A revolver with a long history of police use."
The Viper P357 is a revolver in State of Decay.
Attributes
Edit
Accuracy: 3
Durability: 5
Noise: 4
Recoil: 2
Cannot Equip Suppressor
No Equipped Scope
Weight: 3.0 lbs.
Type: Revolver
Ammo Type: .357 Caliber
Ammo Capacity: 6
Note: All stats except Weight and Ammo Capacity have a maximum value of 5.
Item List
Edit
The following item lists contain this item
Note: S=State of Decay storyline; B=Breakdown; L=Lifeline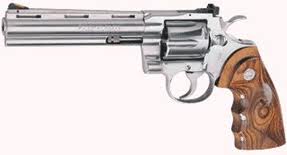 The Viper P357 is based on the Colt Python, a .357 Magnum revolver that is no longer in production.
This particular model is a stainless steel variant with a 4" barrel. It is the prominent sidearm of the main character Rick Grimes in the zombie TV series The Walking Dead.
Jacob Ritter starts with this firearm in Storyline mode.
Community content is available under
CC-BY-SA
unless otherwise noted.