Trumbull County Fairgrounds (abbreviated TCF) is a potential Home Site in State of Decay. It is situated in Fairfield, at the Northwest corner of the map, near an Army enclave. It becomes accessible during the mission "Sgt. Erik Tan".
Relocation Requirements
Edit
Location and Environs
Edit
It is located in Fairfield (Army Forward Operating base) just across the bridge in the Northwest area of the map, accessible after "Sgt. Erik Tan" mission
Facilities
Edit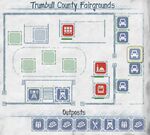 Four facilities are included with the Fairgrounds: Kitchen, Dining Area, Fairground Storage (equivalent to Food Storage) and Watch Tower. It has five open facility slots (1 internal, 4 external), similar to the Snyder Trucking Warehouse, which has 6 slots but 1 is reserved for the Watch Tower. Parking for 5 vehicles and 8 Outpost slots are available.
Base Storage Capacity
Edit
Note: This is the capacity after the built-in Storage Area is fixed up.
Food — 110
Medicine — 110
Ammunition — 110
Materials — 190
Fuel — 110
The Fairgrounds comes with only 1 interior facility slot, but does not have a built-in Bedroom or Medical Area. The player will have to make a choice of which facility to build in this slot to protect the vulnerable survivors.
While TCF and Snyder Trucking Warehouse have the same the total number of facilities (9), the contents of the pre-built slots are nowhere near similar. One of TCF's facility slots is occupied by the Dining Area, and its pre-built Watch Tower cannot be upgraded to Shooting Platform for the extra income of Ammunition from training outsiders. These shortcomings, in addition to a remote location, make this homesite more challenging than STW to players who may spend more time outside of the fairgrounds zone. Conversely, STW does not come with a Kitchen and has much less cover from NPC fire, making it ultimately the player's choice as to which one is a better fit for their playstyle.
It has been confirmed that during general defence survivors will use all three stands to shoot at zombies instead of one, making it have the value of three watchtowers.
If the fairgrounds are reached before the mission to unlock Fairfield is complete (via glitching or mods), travelling along the far right side of the grounds will teleport the player outside the bridge checkpoint and the message "Leave the Area" is displayed.
Community content is available under
CC-BY-SA
unless otherwise noted.