Description
Edit
The Training Area is an optional facility that provides stamina bonuses for survivor. Further upgrade allows for increased Melee combat XP and Ammo income by training neighboring survivors.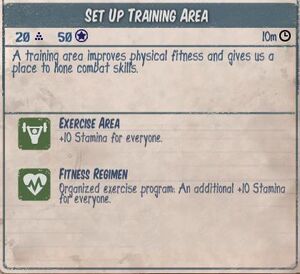 Facility bonuses
Edit
Training AreaEdit
"A training area improves physical fitness and gives us a place to hone combat skills".
Exercise Area - +10 Stamina for Everyone
Fitness Guru - Prevents injuries. Allows establishment of a Fitness Regimen.
"A dojo provides the right space to practice specific survival techniques."
Exercise Area - +10 Stamina for Everyone
Fitness Guru - Prevents injuries. Allows establishment of a Fitness Regimen.
Combat Training
Abilities
Edit
Training AreaEdit
Fitness Regimen (3 Food, 25 Influence, 10 minutes) An additional +10 Stamina for everyone. REQUIRES FITNESS EXPERT (Effect lasts 2 hours)
Fitness Regimen
Combat Training: (3 Food, 25 Influence, 1minute) Gain increased XP from melee combat (Effect lasts 30 minutes)
Commerce: Train outsiders (25 influence, 1h30m) Gain +3 Ammo to train survivors from another community in self defense (Usable once every 1.5 real time hour)
Requirements
Edit
Training AreaEdit
100 Influence
Build time: 20 minutes