"A new bullpup battle rifle, fitted with an optic for high visibility at range."
The TAR 21 Overwatch is a 5.56 Assault Rifle introduced on the Lifeline DLC of State of Decay.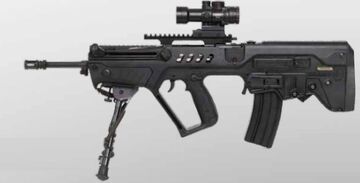 The TAR 21 Overwatch is based on the IWI Tavor STAR-21. A select-fire, marksman bullpup rifle created to be a short-to-mid range DMR variation of the IWI Tavor TAR-21.
State Of Decay
The in-game model features a two-tone OD green-black finish, raised rail above the top receiver with a Schmidt & Bender-styled mid-range sniper scope, M16-pattern STANAG 30-rounds magazine, long-size barrel and a fixed buttstock.
Class: Assault Rifle.
Accuracy: 4/5.
Noise: 4/5.
Recoil: 1/5.
Durability: 2/5.
Accept Supressor: Yes.
Scoped: Yes.
Weight: 8.0 lbs.
Ammo Type: 5.56mm.
Ammo Capacity: 30+1.
Firing Modes: Single/Automatic.
Item List
Edit
The following item lists contain this item:
Note: S=State of Decay storyline; B=Breakdown; L=Lifeline
Locations
Edit
State Of Decay
Can be found in Military Stashes inside armory-style lockers.
See Also
Edit
Community content is available under
CC-BY-SA
unless otherwise noted.