Welcome to the State of Decay Wiki
State of Decay is an open-world zombie survival game developed by Undead Labs for Xbox 360 and Microsoft Windows.
State of Decay 2 is now out! Purchase from Windows Store or the Xbox Game Pass now! Separate wiki now available here!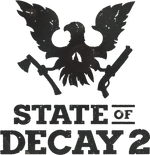 State of Decay 2 is an upcoming horror survival game sequel to State of Decay developed by Undead Labs and published by Microsoft Game Studios. It is planned to release on May 22nd 2018 for both Xbox one and PC, with an early release date of May 18th for owners of the game's Ultimate Edition. State of Decay 2 offers a vast open world game divided in three different maps, each with its own setting and locations. Read more...
The results of the previous poll showed that Drucker County is the most popular map in State of Decay 2 ! Now you can vote in our new poll below, or visit the Community Poll Results to vote in our Legacy Polls, or view the results of previous polls! Good Luck out there!
What environment would you most like to see in the next State Of Decay 2 map?
Create blog post
Recent Blog Posts

Selecting the best base to use in State of Decay 2 is typically as easy as locating the most expensive one. But what about selecting a base in between your starter base and your "Legacy Mission" base? Come and read abo…


Read more >


Once you've gotten all the rucksacks you can stand, there are gaming alternatives to play. Come check out my list of 10 zombie and survival games that are similar to State of Decay 2.

https://www.gamersdecide.com/article…

Read more >

We settled in Meagher Valley. Greg and Clo picked up with us on our way into town, she was infected with the plague. We got into an old house on the outskirts pretty early in the morning. Sim, the doc, got an infirmary …

Read more >
See more >