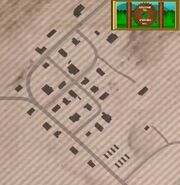 Spencer's Mill is a small town located in the northern part of Trumbull Valley. It is significantly smaller and more rural than the town of Marshall.
Location
Edit
Spencer's Mill is located on US Route 406's northern stretch. The town sits at the intersection of Route 406 and the branch road that leads up to Mt. Tanner and its park facilities. Visitors to the Mt. Tanner Park must pass through Spencer's Mill, as do any people returning from the park.
Town Landmarks and Features
Edit
Despite its small size, the Mill is heavily commercialized, with a large concentration of eateries and general goods shops. Perhaps its most easily found landmark is the Fork in the Road Diner, situated at the intersection of the Loop and the branch road leading up Mt. Tanner. Also in town is the Church of the Ascension, nestled in the woods on the town's east side.
The Mill also boasts a Delivery-X-Press post office, Bronto Gas Station, gun shop, and numerous other commercial buildings.
Much of the town's northern and eastern areas are residential, mainly single-family homes. A trailer park is located along Route 406, just to the east of Spencer's Mill.
Opportunities
Edit
Post-zombie uprising, Spencer's Mill has a number of valuable opportunities for survivors.
A centrally-located Cell tower, just north of Swine & Bovine, serves as an ideal survey location, enabling a survivor to scout the entire town from one perch.
Its gun store, Tartan Mini Mart, and Bronto Gas Station are all sources for critical supplies.
Additional food can typically be found at the Swine & Bovine Restaurant or Wooly Bugger Restaurant.
Medical supplies can be found in abundance at the Vet Clinic just to the west of the Mill along the Loop.
Building materials are typically present at the two houses under construction in the Mill, one just off the Loop at the southern point of the town, and the other along the Mt. Tanner road in the north end.
Other supplies can be found at random among the Mill's homes and businesses.
While there are only three significant roads in Spencer's Mill, any of them can give rise to a zombie horde. Freak zombies, particularly S.W.A.T and Bloater zombies, with the occasional Juggernaut can be spotted in town as well. Feral zombies are a rare risk, but increase in frequency to the north of town.
Locations
Edit
Big Daddy Auto Repair
Delivery-X-Press
The Wooly Bugger Restaurant