"Reliable and inexpensive, a classic."
The Snub Special 22 is a revolver in State of Decay.
Attributes
Edit
Accuracy: 1
Durability: 5
Noise: 2
Recoil: 1
Cannot Equip Suppressor
No Equipped Scope
Weight: 1.3 lbs.
Ammo Type: .22 Caliber
Ammo Capacity: 6
Item List
Edit
The following item lists contain this item
Note: S=State of Decay storyline; B=Breakdown; L=Lifeline
Guns.Civilian
(S,B) Guns.Tanner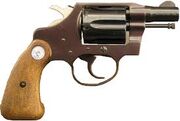 The Snub Special 22 is useful for training the shooting skill or revolver specialization due to its high durability, low noise and availability of the .22 caliber ammo.
The Snub Special 22 is most likely based on a variant of the Colt Detective Special. It is part of Colt's range of compact, double-action revolvers, made popular by their use in undercover police operations. Snubnose revolvers usually use higher caliber rounds such as .38 special. The only variant chambered in .22 Long Rifle is the Colt Banker's Special (which was discontinued during World War 2).
Heather LaRue starts with this firearm in Breakdown.
Community content is available under
CC-BY-SA
unless otherwise noted.