Description
Edit
A sleeping area allows survivors to rest, remove Tired status and regain their max
stamina
.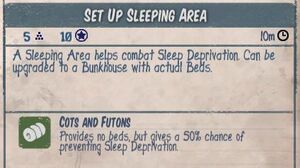 Facility Bonuses
Edit
Sleeping AreaEdit
"A Sleeping Area helps combat Sleep Deprivation. Can be upgraded to Bunkhouse with actual Beds"
Cots and Futons - +50% chance of preventing sleep deprivation.
BunkhouseEdit
"The more people we have, the more beds we need. This'll give us a few more places to sleep"
Beds: Provides +8 beds
Good Night's Sleep - Increases Everyone's Stamina by 10. (MUST HAVE A BED FOR EVERYONE!)
(Most homesites have this facility pre-built)
Beds: Provides +8 Beds.
Good Night's Sleep - Increases Everyone's Stamina by 10. (Must Have a Bed for Everyone!)
(Black Friday facility pre-built)
Beds: Provides +8 Beds.
Good Night's Sleep - Increases Everyone's Stamina by 10. (Must Have a Bed for Everyone!)
Reading Lights - Increases Everyone's Wits by 100%. (Must Have a Electricity!)
Requirements
Edit
Sleeping AreaEdit
BunkhouseEdit
25 Building Materials
3 Influence
Build time: 1 hour