Shotguns
are often considered one of the quintessential zombie-killing weapons in popular culture.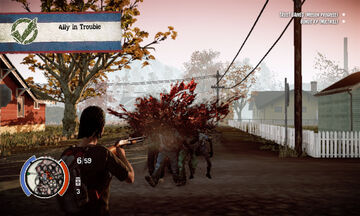 In State of Decay, however, depending on the playing style, character build and situation, they can be highly effective or more trouble than they are worth.
Shotguns can be pump or semi-automatic. All shotguns use the generic Shotgun Shells and cannot be equipped with suppressors.
Shotgun's pros and cons
Edit
Unlike other weapons, shotguns are difficult to achieve headshots without a specialization.
When used by characters with no or low level Shotgun Specialization, shotguns have quite limited range.
Shotguns are really loud and cannot be supressed. Each blast can potentially draw large numbers of nearby zombies to the player's position, especially at higher Breakdown levels (difficulty >10) player characters will find themselves instantly overrun. Thus they are discouraged to use as a defensive weapon or when trying to keep a low profile. Melee or supressed weapons are much more effective for this role.
Most shotguns have low ammo capacity and tend to be rather slow to reload and shoot; however, magazine-fed and semi-automatic varieties do exist in the game.
Shotguns are often very heavy and many characters will end up weighed down by them. To make matters worse, each shell is also much heavier than other types of ammo. Characters without the Powerhouse trait will end up encumbered if they find more weapons to bring back to base with one of the heavier shotguns in their inventory.
Each shot is quite powerful; even at a low level of specialization, shotgun blasts can kill basic zombies with one shot and stun/knock back others nearby.
Each level of shotgun specialization increases the "Kill zone size", which may mean the range, the spread of the shots or both. At a high level of specialization, it is possible to kill an entire horde with a single shell if they are manuvered in a tight formation.
While shotguns should not be used in stealth/defense scenarios, they are very useful when the player tries to purposely draw zombies to his/her position (i.e when clearing infestations, or training).
Watching half a dozen zombie heads exploding into a thin paste never gets old.
Recommended use
Edit
The character should have a specialization to maximize the killing potential of each shell.
The character should have the Powerhouse or Reflexes skill to increase their combat options once zombies get too close.
Due to the shotguns' weight, it is recommended that the users have Powerhouse skill, or Marathon Special Technique to counteract the increased Stamina drain when encumbered.
Comparison of Shotguns
Edit
Notes:
All shotguns cannot be suppressed nor are scoped.
Weapons noted with (B) are those introduced in Breakdown DLC.
Weapons noted with (L) are those introduced in Lifeline DLC.
Community content is available under
CC-BY-SA
unless otherwise noted.