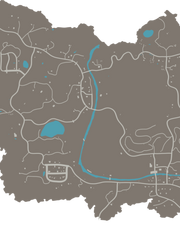 Providence Ridge is the main map in the campaign of State of Decay 2: Juggernaut Edition, alongside Cascade Hills, Drucker County, and Meagher Valley. It is also the pre-set map on the tutorials.
Providence Ridge was a town in flux when the Outbreak hit. The rustic charms of an old logging town are clearly apparent in the architecture and industrial nature of many neighborhoods. However, you can also see how the modern world is actively invading this area, from espresso stands that appropriate the town's long-time mascot to the new housing development being built on the west edge of the map.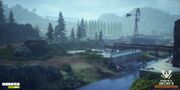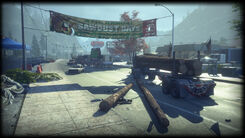 Providence Ridge is based and inspired by the Pacific Northwest region of the United States. It may have similarities to Washington, Oregon, California, Colorado, and/or Wyoming.

However, looking at some similarities, Providence Ridge seems to greatly resemble the North Cascades National Park in Washington.
Apparently it was a good place to camp but the zombie outbreak seems to have made it a scary place.
It is the first map containing some very expendable references, just like a good Shaggy Jack Easter Egg.
During the day we can appreciate the mist that covers the mountains on the map as well as its trees.
Community content is available under
CC-BY-SA
unless otherwise noted.