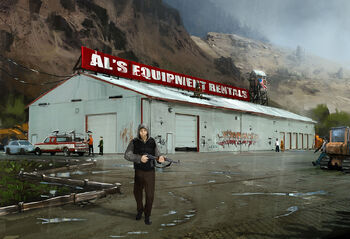 In State of Decay and State of Decay 2, almost all buildings can be entered. These buildings are called Points of Interest. Many of these buildings may be used as Home Sites by the player in order to build their communities and facilities, but those that don't can be used for scavenging Items, setting up Outposts and completing Missions.
As well as the many benefits to the player's community, Points of Interest may also be used to spawn Infestations, Enclaves and objectives. There are also a number of major locations such as towns and cities across the various maps which serve as collections of Points of Interests and Home Sites. A list of major locations can be found at the end of this article.
When a location is infested, Zombies will spawn within it until the Infestation is cleared. At this point, it may be looted safely and converted into an Outpost.
When a location is occupied by an Enclave, it may not be looted, but will serve as a Home Sites for a group of none-playable survivors.
---
The locations in the original State of Decay are accessible across two different story campaigns: State Of Decay, which places you in Trumbull Valley almost two weeks after the initial outbreak and Lifeline which places you in Danforth in the first few days following the outbreak.
Danforth is the map that is featured in the campaign of the State of Decay: Lifeline DLC. It is a city located to the northwest of Trumbull Valley, connected to the town of Fairfield via Route 18. Most of Danforth is shrouded in fog or smoke, so one can never have a clear look at the city's inner area. One can, however, make out numerous skyscrapers and high-rise buildings, indicating Danforth is a densely populated urban area.
Trumbull Valley is the map featured in the original State of Decay campaign, as well as in the Breakdown DLC. Located in the north/northwestern United States and boasting a wide area with gently rolling hills, rivers, and mountains on all sides, Trumbull Valley contains a rich assortment of settlements and points of interest. It is, however, unfortunately overrun by zombies for the entire duration of the game.
---
Unlike the maps found in the original State Of Decay, the maps in State of Decay 2 can all be accessed during the events of the main campaign mode of the game. These maps can be switched between at will.