""A brand new bullpup rifle with a unique forward ejection system. Stock sights."
The Micro Dynamic Rifle is a 5.56 Rifle which was introduced in the Lifeline DLC of State of Decay.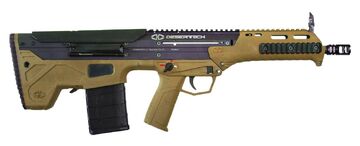 The Micro Dynamic Rifle is based on the 2013-2014 Desert Tech Micro Dynamic Rifle prototype, a modern and modular bullpup rifle.
State Of Decay
The in-game model features a two-tone dark gray-black body, 20-rounds 7.62mm magazines, simple iron sights, and a basic flash hider.
State Of Decay

Class: Rifle.
Accuracy: 3/5.
Noise: 4/5.
Recoil: 2/5.
Durability: 3/5.
Accept Supressor: Yes.
Scoped: No.
Weight: 7.1 lbs.
Ammo Type: 5.56.
Ammo Capacity: 30+1.
Firing Modes: Single.
Item List
Edit
The following item lists contain this item:
Note: S=State of Decay storyline; B=Breakdown; L=Lifeline
Locations
Edit
State Of Decay
Pictures
Edit
The in-game Micro Dynamic Rifle features a wrong .308/7.62 magazine in contrast to it's 5.56 caliber and was modeled after the early prototypes of the Desert Tech MDR, at that time, only models in the .308/7.62mm caliber were shown to the public, however some post-2014 prototypes and the production models of the MDR does features .223/5.56 versions.
See Also
Edit
Community content is available under
CC-BY-SA
unless otherwise noted.