Description
Edit
"Now in minty fresh .45 caliber! Thumb safety included!"
The Mi.LE .45 is a pistol introduced in State of Decay's Breakdown DLC.
Attributes
Edit
Accuracy: 2/5
Durability: 3/5
Noise: 4/5
Recoil: 3/5
Can Equip Suppressor
No Scope
Weight: 1.6 lbs.
Ammo Type: .45 Caliber
Ammo Capacity: 10
Item List
Edit
The following item lists contain this item
Note: S=State of Decay storyline; B=Breakdown; L=Lifeline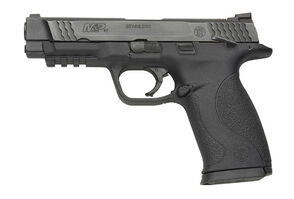 Based on the Smith & Wesson M&P pistol, chambered in .45 ACP and has a 4.5" barrel. The thumb safety is optional.
The name of the in-game weapon 'Mi.LE' stands for 'Military' and 'Law Enforcement'. This is a reference to the name 'M&P' which stands for 'Military & Police'.