"Aging classic from the last days of WWI."
The M 1917 is a revolver in State of Decay.
Accuracy: 2
Durability: 5
Noise: 4
Recoil: 2
Cannot Equip Suppressor
No Equipped Scope
Weight: 2.5 lbs.
Ammo Type: .45 Caliber
Ammo Capacity: 6
Item List
Edit
The following item lists contain this item
Note: S=State of Decay storyline; B=Breakdown; L=Lifeline
(S,B) Guns.Tanner
Guns.Historical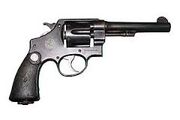 Both Colt and Smith & Wesson made versions of the M1917 at the end of the first world war. The M 1917 is unique in that it is a revolver that has been designed to fire rimless auto-loader rounds (.45 ACP)
Community content is available under
CC-BY-SA
unless otherwise noted.