"The standard in most U.S. military branches since 1985."
The M9 is a pistol in State of Decay.
Accuracy: 2/5
Durability: 2/5
Noise: 2/5
Recoil: 1/5
Can Equip Suppressor
No Equipped Scope
Weight: 2.1 lbs.
Ammo Type: 9mm
Ammo Capacity: 15
Item List
Edit
The following item lists contain this item
Note: S=State of Decay storyline; B=Breakdown; L=Lifeline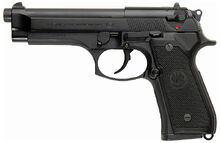 The M9 is based on the Beretta M9 pistol, Made by the Italian company Fabbrica d'Armi Pietro Beretta, adopted in the 1980s as a cheaper alternative to the Colt M1911A1. The M9, or 92FS, features many frameworks to aid aiming, fully interchangeable parts, and better protection against corrosion. It is chambered for the 9×19mm Parabellum cartridge.
The in game model, unlike most real world models, has a rounded trigger guard and appears to have a Picatinny or Weaver rail on the frame.
Captain Diane Montressor uses this firearm in the Storyline.
Community content is available under
CC-BY-SA
unless otherwise noted.