The M1 Carbine is a .357 semi-automatic rifle first introduced in the Lifeline DLC of State of Decay and it is a returning classic 9mm rifle-class weapon featured in State of Decay 2.
The M1 Carbine is based on the venerable M1 Carbine, a lightweight and reliable carbine, which was saw more as a sidearm (because of it's cartridge) than a main infantry rifle, it saw use as close as the mid-final stages of the WW2 to early stages of the Vietnam War.
State Of Decay - Lifeline
The in-game model features a darker Birch stock, M1 adjustable sight, 15-rounds magazine and a bayonet lug.
The in-game model is very similar from the first State of Decay: Lifeline model, the only and more visible change is the lighter Birch wood stock.
Description
Edit
State Of DecayEdit
"A veteran of many wars, this rifle can be found all over the world."
State Of Decay 2Edit
"This rifle appeared on the battlefield during WWII, often in hands of airborne units. It garnered praise for its firepower, especially in comparison to its light weight."
State Of DecayEdit
Accuracy: 3/5
Durability: 2/5
Noise: 5/5
Recoil: 1/5
Can suppress: Yes
Scoped: No
Weight: 5.2 lbs.
Ammo Type: .357 Cal
Ammo Capacity: 15
State Of Decay 2Edit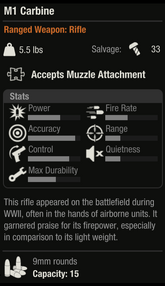 Class: Rifle.
Accept Muzzle Attachments: Yes.
Scoped: No.
Custom Upgrades: No.
Firing Modes: Single.
Weight: 5.5 lbs.
Salvage: 33 Parts.
Ammo Type: 9mm.
Ammo Capacity: 15+1.
Item Lists
Edit
The following item lists contain this item:
Note: S=State of Decay storyline; B=Breakdown; L=Lifeline.
Locations
Edit
State Of Decay 1Edit
It can be found inside Gun Shops.
State Of Decay 2Edit
The M1 Carbine in State of Decay: Lifeline and State of Decay 2 have bayonet lugs, this kind of feature and improvement was only officially implemented in armies only after the WW2 and was a common setup to many M1/M2/M3 Carbines that saw action in both Korean and Vietnam Wars.
Community content is available under
CC-BY-SA
unless otherwise noted.