Description
Edit

"Light support weapon with serious combat history.
The M1918A2 is a light machine gun introduced in State of Decay's Breakdown DLC.
Attributes
Edit
Accuracy: 4/5
Durability: 4/5
Noise: 5/5
Recoil: 3/5
Can Equip Suppressor
No Scope
Weight: 17.1 lbs.
Ammo Type: 7.62mm
Ammo Capacity: 20
Item List
Edit
The following item lists contain this item
Note: S=State of Decay storyline; B=Breakdown; L=Lifeline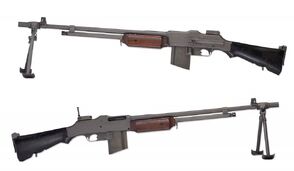 The M1918A2 BAR is the easiest LMG in Breakdown to maintain for long periods of time (LMGs often have such large magazines that they are impractical to reload, so they are most useful as "disposable" weapons saved for hordes, Juggernauts, Ferals etc). The BAR, however, has a 20-round magazine, as well as a slow rate of fire, which allows it to easily fire single shots by tapping the trigger.
Community content is available under
CC-BY-SA
unless otherwise noted.