"A P226 used by select U.S. military units."
The M11 is a 9mm Pistol introduced in State of Decay.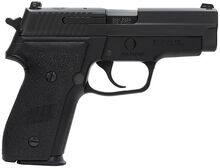 The M11 is based on the real life SIG Sauer M11. A compact military-grade service pistol based on the full-size SIG Sauer P226.
State Of Decay
The in-game model features a black finish, compact profile, black-tan E2-style grips, iron sights and features a 13-rounds magazine.
State Of Decay

Class: Pistol.
Accuracy: 3/5.
Noise: 2/5.
Recoil: 1/5.
Durability: 3/5.
Accept Supressor: Yes.
Scoped: No.
Weight: 1.8 lbs.
Ammo Type: 9mm.
Ammo Capacity: 13+1.
Firing Modes: Single.
Item List
Edit
The following item lists contain this item:
Note: S = State of Decay Storyline; B = Breakdown; L = Lifeline
Locations
Edit
State Of Decay
See Also
Edit
Community content is available under
CC-BY-SA
unless otherwise noted.