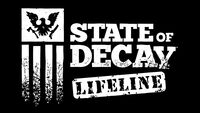 State of Decay: Lifeline is the second DLC for State of Decay. It was released 30th May 2014.
Overview
[
]
Lifeline is the second DLC for State of Decay. It is set in the city of Danforth and focuses on a group of US Military soldiers.
The player controls Greyhound One — a small surviving unit sent to the fallen city of Danforth to rescue scientists, researchers and civilians who are deemed critical to investigating and fighting the outbreak.
Features
[
]
A new story and missions revolving around the military involvement in the outbreak.
A new map; considerably more urban than Trumbull Valley.
New 40 Firearms, many of which are of military-grade.
New traits and character information.
New vehicle, the Military Pickup.
New Lifeline: Siege feature.
New Radio Options
Multiple Possible Endings
Differences between Lifeline and Story mode

[

]
New Day
[
]
Instead of using real-time for a day to pass like in Storyline Mode and Breakdown, In Lifeline the day passes right after completing the mission Lifeline: Siege.
Missions
[
]
These missions are specific to the State of Decay: Lifeline DLC.
Video
[
]