Description
Edit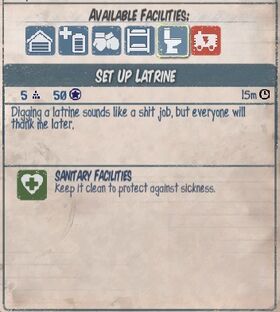 "Clean facilities for the disposal of human waste."
The Latrine is one of the optional facilities introduced in the DLC Lifeline.
Facility Bonuses
Edit
Sanitary Facilities: A sanitary latrine is the key to a healthy base.
Requirements
Edit
The Latrine will gradually get dirty. At some point it becomes filthy and offers no bonuses until cleaned up.
Historically, diseases caused by the improper disposal of human wastes have killed more soldiers than the actual fighting. (Citation needed)
Community content is available under
CC-BY-SA
unless otherwise noted.