"Technically a pistol, firing a rifle round, classified as an SMG. Did you get all that? Optic added."
The LAR-15 is a 5.56 SMG introduced in the Lifeline DLC of State of Decay.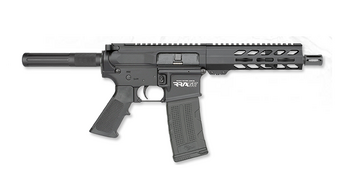 The LAR-15 is based on the real life Rock River Arms LAR-15. A manufacturer known for their low-cost AR-15 pattern weapons.
State Of Decay
The in-game model features a full jet-black finish, pistol tube slim handguard, pistol buffer tube, railed top receiver with a red-dot scopes M16-pattern STANAG 30-rounds magazine, shorter pistol-size barrel and a muzzle brake.
Class: SMG.
Accuracy: 4/5.
Noise: 4/5.
Recoil: 3/5.
Durability: 2/5.
Accept Supressor: Yes.
Scoped: Yes.
Weight: 5.2 lbs.
Ammo Type: 5.56mm.
Ammo Capacity: 30+1.
Firing Modes: Single.
Item List
Edit
The following item lists contain this item:
Note: S=State of Decay storyline; B=Breakdown; L=Lifeline
Locations
Edit
State Of Decay
The in-game weapon is classified as SMG, but this classification is "wrong" as SMG is a class of short size, select-fire weapons, however this weapon only features a semi-automatic firing mode, which tecnically makes it a rifle, the same issue happens with the MPX in State of Decay.
Community content is available under
CC-BY-SA
unless otherwise noted.