"Ultra compact and mean, just like your little sister."
The G 26 is a pistol in State of Decay.
Attributes
Edit
Accuracy: 3
Durability: 2
Noise: 2
Recoil: 3
Can Equip Suppressor
No Equipped Scope
Weight: 1.1 lbs.
Ammo Type: 9mm
Ammo Capacity: 10
Item List
Edit
The following item lists contain this item
Note: S=State of Decay storyline; B=Breakdown; L=Lifeline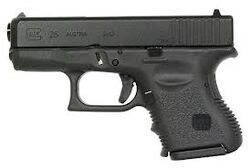 The G 26 is based on the Glock 26, a semi-automatic pistol made by Glock, chambered for 9mm Parabellum rounds. This sub-compact variant was designed specifically for concealed carry and civilian use.