"Uses the .50 AE pistol round, a show stopper."
The Condor is a pistol in State of Decay.
Accuracy: 2
Durability: 1
Noise: 5
Recoil: 5
Can Equip Suppressor
No Equipped Scope
Weight: 2.3 lbs.
Ammo Type: .50 Caliber
Ammo Capacity: 7
Item List
Edit
The following item lists contain this item
Note: S=State of Decay storyline; B=Breakdown; L=Lifeline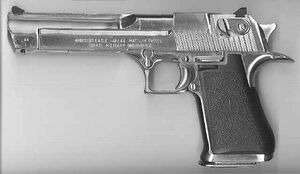 The Condor can be found in the Supply Locker at Wilkerson Farm.
It's one of only two cal .50 guns that can be suppresed (along with the Mk. 15)
The Condor is based on a variant of the IMI Desert Eagle which fires .50 Action Express ammunition. Manufactured in 1998 by the Israeli Military Industries, the Desert Eagle contains a gas operated system, one found in most rifles, instead of the usual blowback system used by other pistols. It is one of the best recognized handguns thanks to its distinctive appearance and portrayal in countless movies, video games and other media.
Community content is available under
CC-BY-SA
unless otherwise noted.