The Arctic Warrior is a 7.62 bolt-action sniper rifle first introduced in the Lifeline DLC of State of Decay and it is a returning military-spec rifle-class weapon featured in State of Decay 2.

The Arctic Warrior based on the Accuracy International Arctic Warfare series of bolt-action rifles designed for military and police sharpshooters.
State Of Decay - Lifeline
The in-game model features a folding-stock body with a dark-olive finish and it uses a powerful, long-range scope.
The in-game model now features a fixed-stock body with a simple green finish plus a brown and white camouflage pattern, it comes with a short-range scope.
Description
Edit
State Of DecayEdit
"Pinpoint accuracy at long range, this rifle is a huge success in military units."
State Of Decay 2Edit
"Exceptionally heavy, bolt-action, mag-fed military sniper rifle. Relied upon by the world's best."

State Of DecayEdit
Accuracy: 5/5.
Durability: 4/5.
Noise: 5/5.
Recoil: 4/5.
Can suppress: Yes.
Scoped: Yes.
Weight: 14.3 lbs.
Ammo Type: 7.62mm
Ammo Capacity: 5.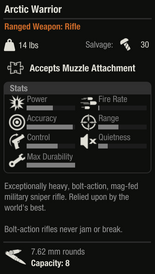 State Of Decay 2Edit
Class: Rifle.
Accept Muzzle Attachments: Yes.
Scoped: Yes: (Short-Range Scope).
Custom Upgrades: No.
Firing Modes: Single.
Weight: 14 lbs.
Salvage: 30 Parts.
Ammo Type: 7.62mm.
Ammo Capacity: 8+1.
Item Lists
Edit
The following item lists contain this item:
Note: S=State of Decay storyline; B=Breakdown; L=Lifeline.
Locations
Edit
State Of Decay 1Edit
It can be found and taken from the supply locker at first for free.
Can be requested at the Military Base's supply locker for 102 Influence points.
It can be found inside of military crates and military stash in the Story and Breakdown modes in State of Decay: Year-One Survival Edition.
State Of Decay 2Edit
Community content is available under
CC-BY-SA
unless otherwise noted.